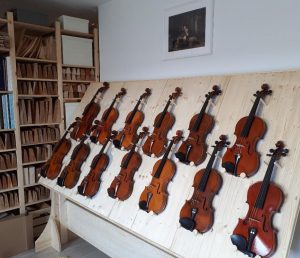 Dear friends,
I am glad to welcome you in my new shop in Vienna, Austria. Now having larger premises available, I have broadened my activity spectrum and I have assembled a very fine collection of contemporary violins, violas and celli made by fellow makers from Cremona – all available for trial and sale. Also, some very fine modern bows!
   These wonderful guests won't stay long in Vienna as this is a special event; starting now until the end of June 2019, I gladly invite you to come see and try them! 
Instruments by (random order): A.Tossani, A. Spadoni, M. Nolli, D. Ciaccio, M. Ardoli, E. Bardella, A. Di Matteo, B. Neumann, A. Cironi, F. Rotaru (more to follow)
Bows by K. Uebel, L.Pastureau, J. Hess (more to follow)
   For appointments please write me a mail or call me at my new austrian phone number, the Contact page is updated.
The event poster in German: