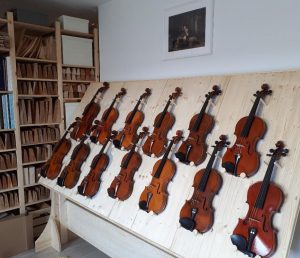 Jan. 2020
Entering the new year we welcome you to try new additions to our shop, as well as benefitting from the usual Repair and Sound adjustment servies.
Our collection of instruments includes violins, violas and celli by: 
D. Ciaccio, B. Neumann, M. Nolli, A. DiMatteo, E. Bardella, M. Ardoli, P. Flavetta, A. Cironi, C. Cipriani, J. Bartos, and Felix Daniel Rotaru. 
Bows from France and Germany: L. Pastureau, J.Hess, K. Uebel and more to follow soon.
F.R.
.