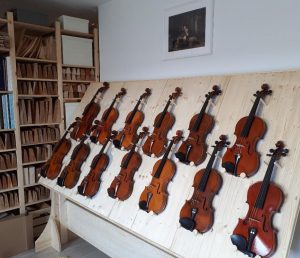 Update, 1. July 2019
New arrivals from Cremona!
Instruments by: 
D.Ciaccio (x2), B.Neumann, M.Nolli, A. Di Matteo (x2), E. Bardella, M. Ardoli, P. Flavetta, A. Cironi, C. Cipriani (x2), J. Bartos, alongside five instruments (violins, viola, cello) made by myself. 
  A fine collection of violins, violas and celli from top makers of Cremona, available in my shop in Vienna.
Bows from France and Germany: L. Pastureau, J.Hess, K. Uebel and more to follow soon.
  Please visit our contact page for an appointment! We will remain open throughout the summer!
F.R.
.