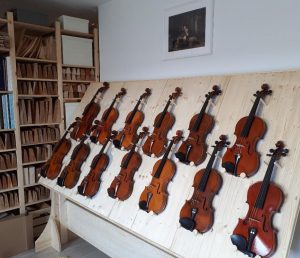 At our shop in Vienna we offer a comprehensive selection of very fine contemporary violins, violas and celli made by Felix Daniel Rotaru and other fine contemporary makers from Cremona, Italy.
A fine selection of contemporary bows is also available for trial and purchase. Our stock includes award-winning french and german makers.
We provide services such as repair / restoration (violins, violas, celli) and our signature sound adjustment, where our background in professional classical violin performance is a mark for consistent results.
We are also available to offer assistance, advice and analysis of your instrument in purposes such as buying/selling decision, insurance, etc.
All visits are on an appointment basis, we are looking forward in receiving your message.
F.R.
.