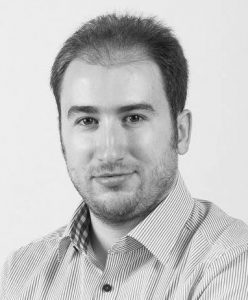 Felix Daniel Rotaru
Violin Maker and Violinist, currently residing in Cremona, Italy.
He completed his studies as professional classical musician – violinist at the National Academy of Music in Bucharest and few years later enrolled at The International School of Violinmaking in Cremona, the most prestigious institution of its kind. There he studied with leading makers of the Cremonese school, many of them Winners of the Trienale Violinmaking Competition in Cremona.
During his years of study he distinguished himself as craftsman especially in the antiqued manner of work as well as thoroughly dedicating himself to acoustical research on the instruments of the string quartet with the help of several experts in the field. He conceived a number of personal violin and viola models based completely on the Amati system of self-generating proportions, used by Stradivari and all the classical cremonese school.
   International recognition came very soon, as many notable european musicians began to take notice of the acoustical level of his instruments, freely inspired after Stradivari, Guarneri, Bergonzi and Montagnana.
   Today his works can be found in Great Britain, France, Germany, Switzerland, Austria, Italy, Spain, Taiwan, Poland, Latvia, Romania, etc. Soloists, concert-masters, teachers, orchestra players and gifted academy students play his instruments, some of them already owners of great italian instruments from the classical period.
   Felix Rotaru works alone in his workshop using only traditional tools and methods. His instruments are almost exclusively available through his shop. He prefers working on commission but tries to always have some finished instruments available for trial and purchase. His output consists of 4-5 instruments a year. Recently the interest for baroque instruments of the violin family gained momentum and such projects are under way.
.